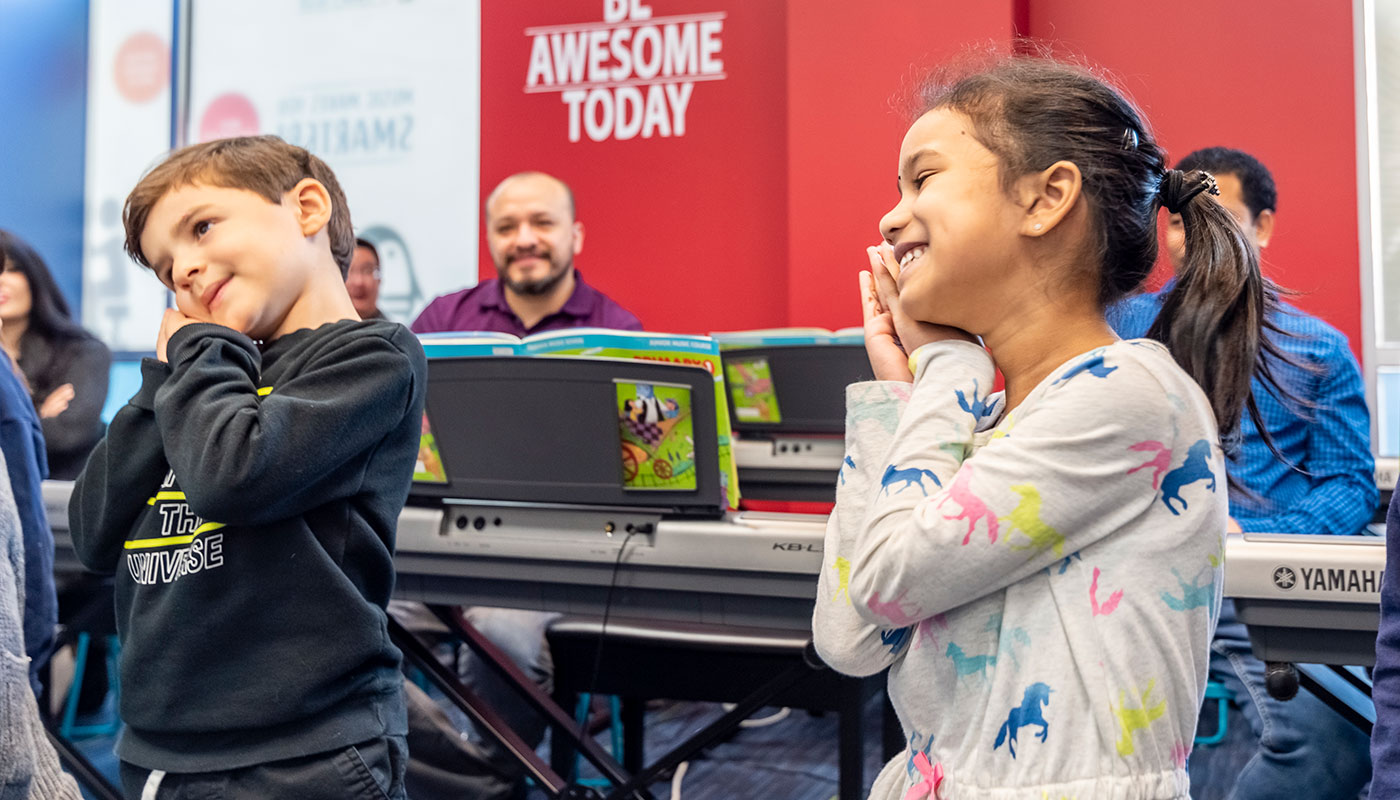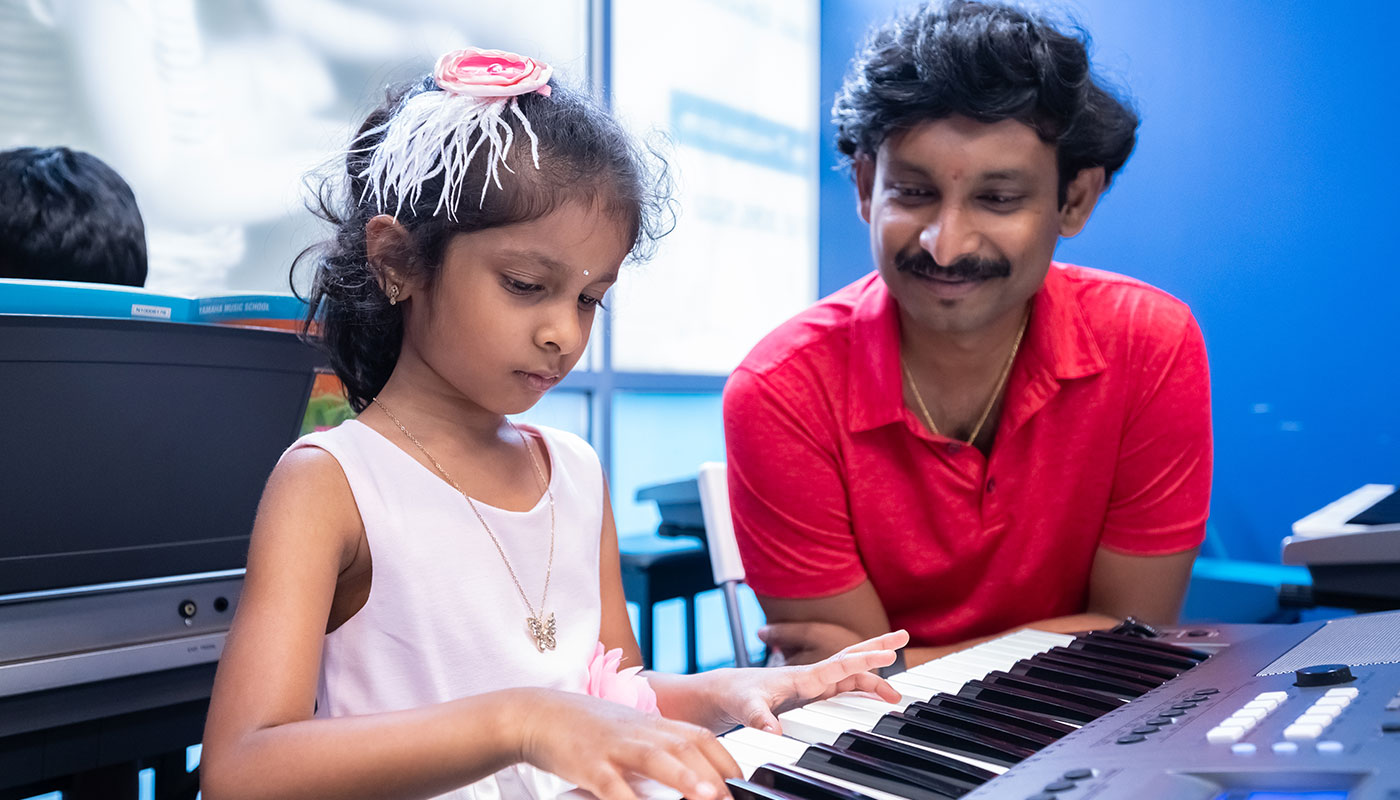 Your child's sense of hearing, finger muscles and vocal cords develop most rapidly. Now your child is ready for the Junior Music Course (JMC). JMC is specially designed  to: emphasize ear-training and develop your child's innate sense of music, create a stimulating environment to children to sing and play simple tunes, encourage kids to express themselves musically.

Repertoire Playing
The Process of learning:
Children will acquire the aural ability to recognize various elements of music and to play with rich expression.  Singing  as they have heard and playing as they have sung are the most important factors.
Keyboard Games
This is to practice the new elements, such as new keys or new chords, in preparation for learning the Repertoire.  Child play along with the music on the CD repeatedly in a fun way.
Singing Songs (lyric Singing)
This is to sing with lyrics which stimulates children's imagination .  By signing with friends and parents,  they experience the joy of expressing themselves through music.
Memory Singing  by Solfege
This is to the melody by solfege following the teacher's singing and playing.  Singing this way repeatedly teaches children various kinds of musical expressions and helps develop the ability to recognize differences in music.
Course Overview
Musical Awareness and Sensitivity

Solfege Singing (do-re-mi-fa-sol)

Instrument Playing

Ear Training

Ensemble Playing

Note Reading
Achievement Progress:
After 3rd month: Play an entire song comfortably
After 6th month: Play an entire song using both hands simultaneously
After 1 yr: Learn Chords in different keys
After 2 yrs: Play in a variety of styles and tonalities using different musical concepts and expression
Formal Exams and National Concerts
Year 2: Yamaha Fundamental Skills Survey (FSS)
Year 3: Yamaha Grade Examination, Grade 10 and/or entry to Yamaha National Junior Original Concert Competition
Year 4: Yamaha Grade Examination, Grade 9 and/or entry to Yamaha National Junior Original Concert Competition
Frequently Asked Questions

How is Yamaha Different from Piano Lessons?

The Yamaha curriculum is broad compared to traditional private piano lessons. Children sing solfège, play the keyboard, sing songs with lyrics, move to music, play rhythm and keyboard ensembles and participate in music appreciation activities. They develop diverse musical skills without prematurely focusing on one instrument or style. This approach allows students to choose their future musical path when they are more physically and mentally mature.  Yamaha students are often leaders in school orchestra, band, and choir programs.

Will My Child Learn to Play the Piano or Keyboard?

Yes! A keyboard or piano is required.  Children enjoy playing the keyboard and can become excellent pianists with Yamaha's holistic approach.

Are Student's Required to Practice?

Yes.  Students receive 'homework' to reinforce the classroom activities.  This serves as a guide for parents as they begin to integrate fun, active music-making into the daily life of the family.  We provide our parents with training, workshops and tools to support their time outside of the classroom.

How Do I Know If My Child Is Ready For Music Lessons?

We believe that all children can learn and are ready to begin music training at a young age with the correct approach and philosophy.   We offer a free preview class to assess musical readiness.

Should Parents Have a Musical Background?

No.  You learn with your child during weekly lesson.

What is the Tuition?

7 Notes offers payment plan by semester, 5 payment plans and yearly payments in full. A full schedule of options are made available during the preview class.

How Many Children Are in the Class?

Classes are typically taught to groups of 10-12 children. This format motivates children and provides an opportunity to develop ensemble skills and cooperation within a supportive community of friends and parents.

What is the Parent's Role?

Parental attendance facilitates accelerated growth. The parent/child partnership is active, not passive. Each partnership develops into a mini-ensemble, where co-learning, co-practicing and co-discovering can be enjoyed in class and at home.

Why Group Lessons?

Students of all ages learn better in groups due to the following factors:

Peer Influence: In a group there is peer motivation such that a student will want to perform well in front of and with his/her peers. The experience of performing in front of a friendly audience on a regular and frequent basis will give the student confidence and a feeling of accomplishment.

Comprehensive learning: Group lessons are a very effective way to achieve comprehensive musical training. In a group a student can sing with others and perform in various kinds of ensembles.

It takes the pressure off: In a group, pressure is not constantly on one individual. As a result, music skills can be nurtured in a relaxed and friendly environment conducive to learning

Why use Keyboard Instruments?

The use of the keyboard as a learning tool is one characteristic of the Yamaha Music Education System. Keyboards offer the following advantages:

Pitch Accuracy: When a key is pressed, it produces the correct sound

All Musical Elements: Students can play melody, rhythm, and harmony on one instrument

Visible and touchable: On a keyboard, notes are easy to find and play

Range: Sounds in all ranges (high and low) are easy to produce

How is Yamaha Different from Other Programs?

Teachers: Our faculty has a genuine commitment to teaching beginning musicians and are certified by Yamaha through extensive training at Yamaha Corporation of America and exams.

Fun and Rewarding: Students can have fun and achieve a high level of music proficiency

Play: Performance opportunities are available in a wide variety of settings, from recitals to national or international concerts

Curriculum: Materials include books, CD's, DVD's and other materials that combine decades of experience with the most recent research in music education

International History: We are part of a vibrant international network of Yamaha education centers in over 40 countries. More than 6 million students over 50 years have learned to play using the Yamaha method